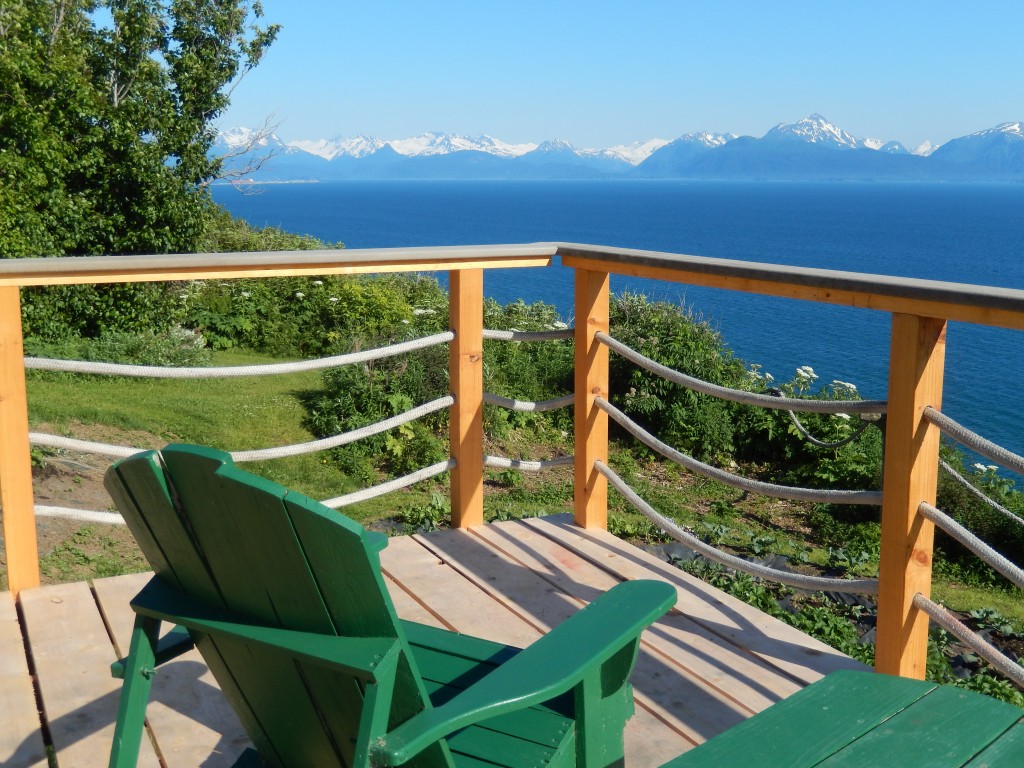 THE CLIFF DWELLING
It is always inspiring to spend time on the bluff and it occurred to me that although it is one of the greatest parts of our property we weren't spending a lot of time there. So after ruminating about it a few years, the idea for a small observation post began to grow. The building would allow the use of windows, beams, and other materials left over from previous projects, it would be a lot of fun to build, and mostly it would provide a peaceful retreat to hangout, watch birds, and take in the grandeur of this spectacular place.
Viewing the sea from here, one realizes Kachemak Bay is situated in a uniquely  geographically dynamic place on the Globe. The Ocean swoops into Cook Inlet from the Gulf of Alaska through Kennedy Entrance east of the Barren Islands and up through Shelikoff Strait and around Cape Douglas to the west.
Unfathomable volumes of water enter the Inlet, filling bays, and fjords with the tide then tipping out again 12 hours later. From this spot you can watch the tidal exchange pass Pogibshi point SW of Seldovia into Kachemak Bay A twenty five foot ebb and flow Is not uncommon in a 12 hour period, and sometimes a 30 ft difference is approached and surpassed if coupled with a storm. Looking East the Homer spit extends about 4 miles into the bay toward the mountains and glaciers of the upper bay.
I must admit part of the reason for building the cliff dwelling in addition to experiencing the peace is to watch and listen to storms. Every day brings something new to see, a different color and texture to the sea, new growth or a different snow line above the peaks and ridges beyond the Islands to the slopes of the usually verdant Kenai Mountains across the Bay. Often aviary creatures hang and soar in the bluff's thermal drafts at eye level. Eagles and gulls go about their business among the antics of magpies and an occasional Raven convention convenes. Ducks and shorebirds have their own things going on below, some sharing symbiotic relations with rafts of otters and other tidal creatures. I am beginning to know some of these birds better on their own terms. The wholesome smell of low tide, the interplay of sealife becomes captivating, piquing the senses, and enveloping you in the natural world. There's a lot to see and feel from looking off here.